Fabric samples can now be requested online and from showrooms.
Our second fabric collection created in partnership with the Royal Horticultural Society (RHS) draws once again on the archives of the RHS Lindley Collections. This time, our inspiration focuses on two women artists in the field of horticulture, Gertrude Jekyll and Caroline Maria Applebee, celebrating the enduring appeal of their artistic achievements.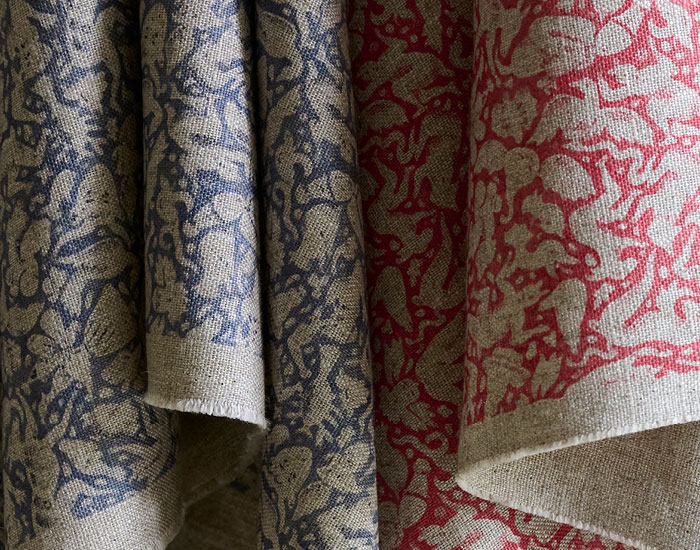 Gertrude Jekyll Folklore
Printed in Lancashire on a viscose linen union
Created from a design for a wallpaper pattern, found within Jekyll's sketchbook, featuring tiny representations of mythical beasts. Akin to the Arts and Crafts style of pattern design, with which she was associated, the repeating design is playful and mercurial. Tumbling shapes nimbly traverse the fabric, with tiny details of the fantastical creatures emerging the closer you look. Monotone, in a palette of 10 colourways, with the design revealed against a coloured ground. The exact date of the composition is unknown.
"A garden is a grand teacher. It teaches patience and careful watchfulness; above all it teaches entire trust."
Gertrude Jekyll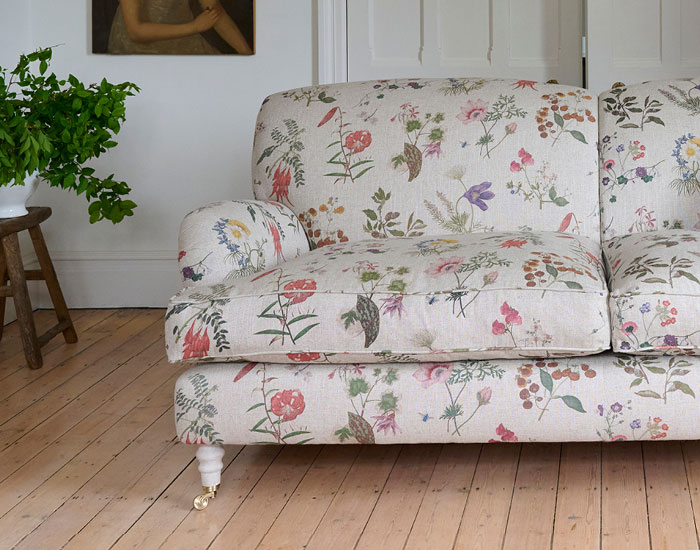 Caroline Maria Applebee Collage
Printed in Lancashire on a viscose linen union
Created from a series of watercolour studies of British native and other exotic plants by botanical artist Caroline Maria Applebee, who was born c.1787. The daughter of an Essex rector and a graduate of St John's College Oxford, Applebee lived most of her life in Colchester where she was a prominent member of the local Horticultural Society. She died in 1854, leaving three books of flower paintings to her niece. The RHS bought more than 300 of Applebee's drawings, the earliest dated 1808 and the last from 1852: a collection which represents a fascinating fragment of social and horticultural history.