Protect Your Sofa
Our Fabric Protection Plan offers you 5 years peace of mind against accidental stains and damage.
Staingard have teamed up with Sofas & Stuff to provide you with good honest, no nonsense cover for your sofa. Staingard Plus™ protects you against the costs associated with accidental damage or staining but is not a substitute for regular care and maintenance, which is why we have created industry-leading products which complete Staingard Plus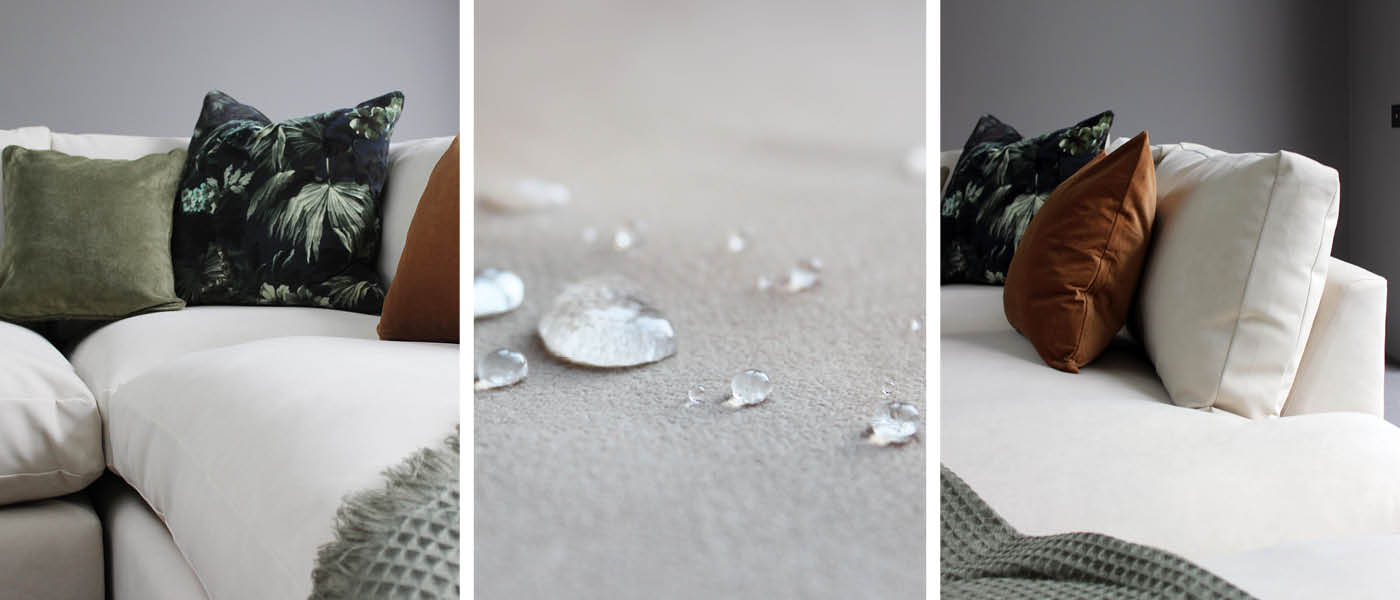 If you can't remedy the problem yourself, using one of the market leading care products supplied by Staingard, one of Staingard's national team of professional repair technicians will visit your home and resolve the problem for you. And if that doesn't solve the problem, don't worry, we'll replace the stained or damaged part of your furniture.
Getting Help Couldn't Be Easier
All you have to do is call our Claim Line on 01384 473017 and we'll be able to give you assistance to enable you to continue enjoying your furniture for many years to come. Whatever furniture you select, Staingard Plus™ protection programmes are supported by two of the biggest names in furniture protection.
Benefits of the Staingard Plus™ Protection Programme
5 years protection
Original purchase price replacements
National network of professional technicians
No excess charge
Fair and impartial claims processing
The nitty gritty - Summary of the Cover & Protection Provided
Stains
(staining must result from a sudden and unforeseen event. This policy Does not provide cover for an accumulation or build up over a period of time.)
Acids
Cosmetics
Shoe polish
Ink
Bleaches
Caustics
Corrosives
Paint
Superglue
Food & drink
Human & animal bodily fluids
Dyes & dye transfer from newspaper print or clothing, including Denim
All food stuff & drink
Accidental Damage
(Accidental damage means unintended and unexpected damage caused by a sudden and unforeseen event)
Rips
Burns
Scuffs
Punctures
Scratches
Breakage, dents or chips
Pet damage (limited to 3 claims per period of insurance)
How far would you go to protect your sofa?
Staingard Plus™ is a comprehensive protection scheme comprising the best furniture care products and a 5 year cover programme protecting you against staining. Peace of mind is provided immediately after your furniture is delivered.
Summary of the Staingard Plus™ significant exclusions
Commercial use
Deliberate damage
Abuse or neglect
Removal of odours
Wear and tear
Natural characteristics of leather
Fading of fabric and materials
Accumulated multiple stains
Anything that happens gradually including dye transfer
Why leave the benefit of a great night's sleep to chance?
We spend as much as 8 hours a night in our beds and choosing the right bed is an important decision that can greatly affect our well-being. Staingard Plus™, working with Sofas and Stuff, helps provide you with the perfect sleeping environment. However, choosing the right mattress is only part of the story. By choosing a Staingard Plus™ mattress protection scheme you will not only be assured that your mattress will be protected from the effects of accidental staining and damage but you are also creating a healthy sleeping environment.
Protection day and night
Staingard Plus™ provides you with peace of mind for 5 years by ensuring that not only will you have a healthy and hygienic sleeping environment but you will be protected against the effects and costs of accidental damage or staining. Accidents do happen and can have costly consequences, but with Staingard Plus™ you can enjoy your new mattress to the full knowing that in the event of a mishap we are here to help put things right.
By purchasing Staingard Plus™ with your new mattress you will get the following benefits.
A superior quality mattress protector
Accidental damage cover
Accidental staining cover
Enhanced comfort
Allergen and odour reduction
Pay for great sofa care, not costly cleaning or repair bills
Your Care Plan begins on the date your furniture is delivered and subject to the Terms and Conditions will continue for 5 years.
Your Care Plan has been arranged by Staingard Warranty Group (A trading name of Homeserve Furniture Repairs Limited).
For details of your insurer, please see the Terms and Conditions on your Certificate of insurance that will be provided to you following delivery, a copy of which can be obtained from your Sales Consultant.