Sofas & Stuff have created an enchanting fabric collection in partnership with the Royal Horticultural Society (RHS), inspired by the archives of the RHS Lindley Collections, which houses one of the world's finest collections of botanical drawings, paintings, and literature.
The collection draws from a broad span of the RHS archive, taking inspiration from botanical artists and garden designers from 17th through to the 20th centuries. The result is elegant and intimate; the designs are beautifully varied, yet strongly complementary to each other. Geometric knot garden designs from the 1600s sit alongside exquisite botanical drawings and floral sketches. The collection is grounded in soft, natural tones, with rich pops of colour from the featured illustrated fruits and flowers, that will work across a wide range of interior design styles.
The fabrics can be used across any of Sofas & Stuff range of British handmade bespoke sofas, chairs, beds, footstools, and cushions or purchased as fabrics for curtains and blinds or other soft furnishing projects.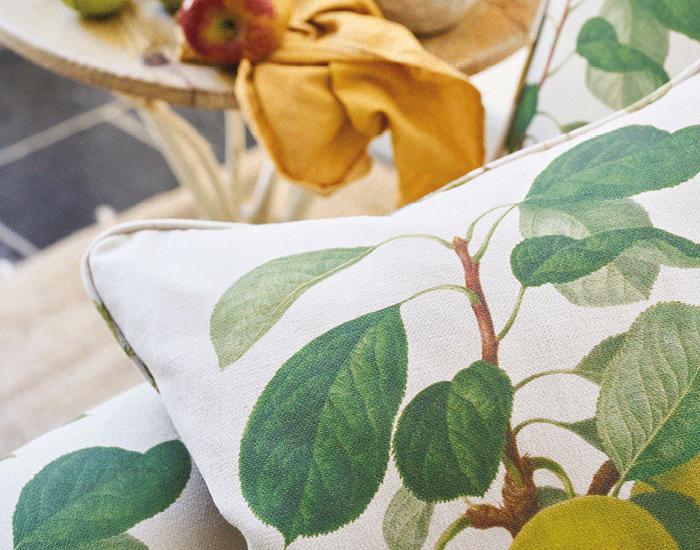 William Hooker
Printed in Lancashire on a cotton linen mix
A selection of William Hooker's paintings of fruits and flowers feature in this naturalistic and graceful design. In 1815 the Horticultural Society of London, which later became the RHS, appointed Hooker as their official artist, for whom he created over 150 paintings. He was particularly adept at depicting greenery, especially 'pome' fruits like apples, pears, and quince. His fruit drawings, known as Hooker's Fruits are recognised as among the greatest fruit drawings of all time.
"The first purpose of a garden is to be a place of quiet beauty such as will give delight to the eye and repose and refreshment to the mind."
Gertrude Jekyll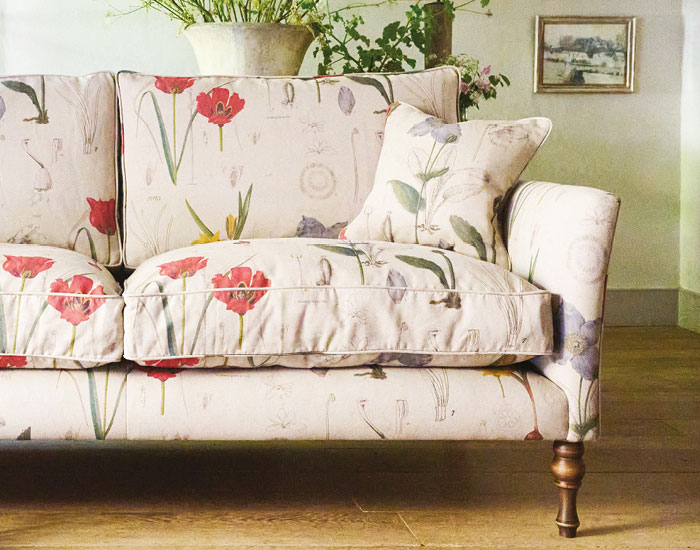 Lilian Snelling
Printed in Lancashire on 100% linen
Considered one of the greatest 20th century British botanical artists, Lilian Snelling studied at the Royal College of Art, London, and went on to become the botanical artist at the Royal Botanic Garden, Edinburgh. She was awarded the Victoria Medal of Honour, the RHS's highest award, in 1955, a year after receiving an MBE. A selection of her watercolour paintings and pencil sketches of bulbs and flowers have been collated from the RHS Lindley Collections and artfully composed in a gently flowing design.